A Choir of Car Dealers
Justin M. Osburn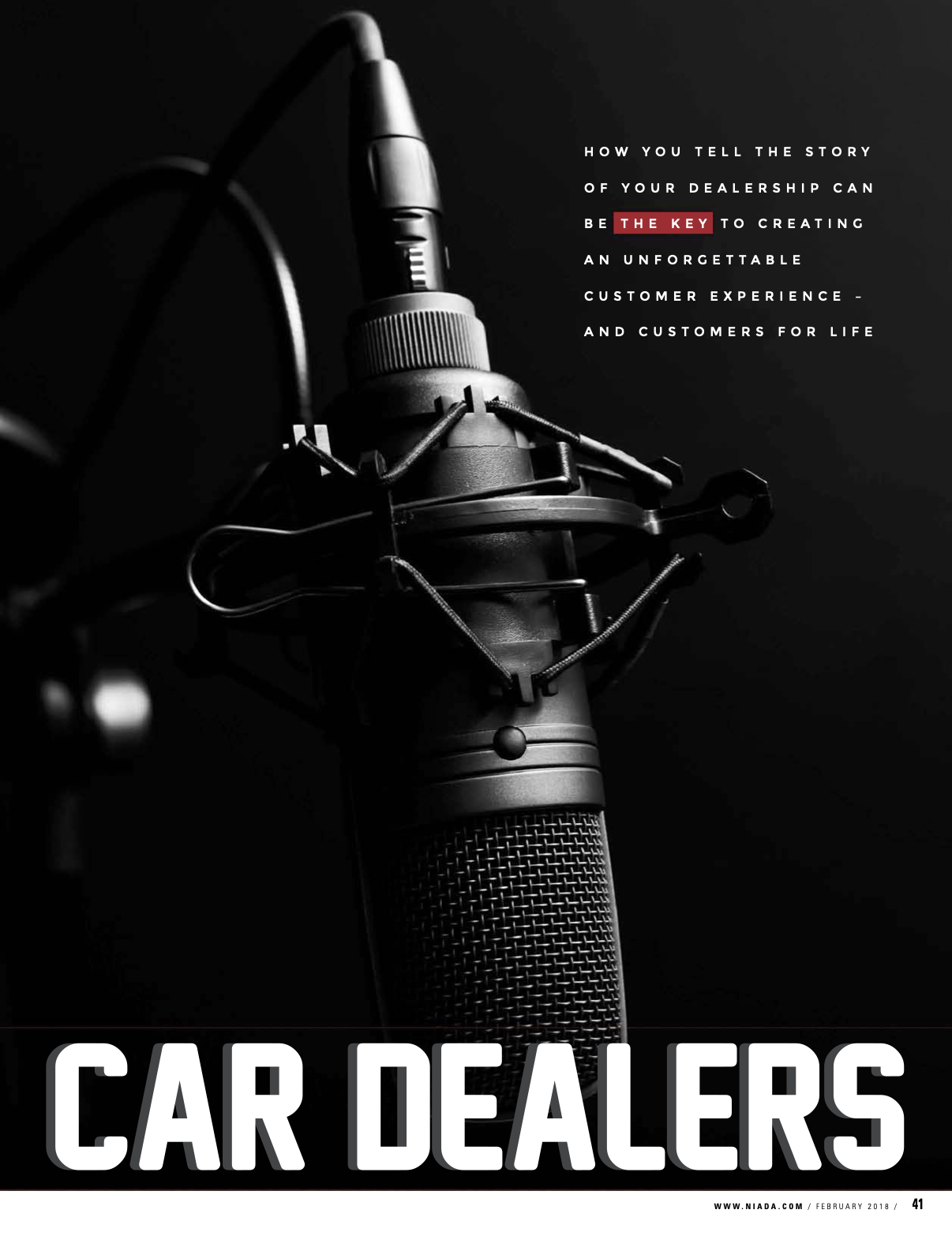 The Power of Your Story
About a year ago, I met some business colleagues for dinner at an upscale restaurant in Kansas City, MO. We had heard great things about it, but never dined there. As we entered, the greeter stood behind a sleek, black podium and with a big smile. She immediately welcomed us. She asked if we had enjoyed dinner there before. Side-note, this is a great introduction question for the sales and service teams on the lot, "Have you visited our dealership in the past"? I responded we had not. She quickly wrote down our party details on the seat chart and still broadcasting her friendly smile, began to tell us the restaurant's "story". She led us to nearby hallway packed with thoughtfully positioned pictures and mementos. She illustrated the history of the restaurant through the pictures which included it's first food cart, owner's background and story about how the restaurant was created. She told us about the tragedy when a fire burnt the place to ashes, the famous celebrities who had eaten there and the values and vision of the team. The entire story took maybe three or four minutes. After she completed the story, she told us her name, asked us if we had any questions, and then personally led us over and handed us off to another greeter who would be seating us.
We were seated handed menus and introduced to our waiter, who then also introduced himself. He thanked us for coming in and in 60 seconds told us some background on the type of food served at the restaurant. He had a different part to play in telling the story, but it was congruent. This story telling experience made us all feel... good. It also made us feel welcome and important. We quickly knew we had made a great choice by trying it out... and we had yet to taste any food.
Certainly you have had a similar eating experience. Consider this, the team members most likely did not organize a meeting and determine the history and values (or the story) of the restaurant. They also did not decide what processes and tactics would be installed to tell that story. They merely played their designed role to purposely bring that story to life. This experience originated from the owner and/or senior leadership.
What is your story? Write it out, look it over and determine what message(s) you want to broadcast. Determine what values you possess and intentionally exploit, deploy and invest those values in your business and team. This is the first step coordinating your team to tell your story. It begins with you sharing it with your team not only through word, but also through action, signs and symbols.
Several years ago, I had the opportunity to attend the Disney Executive Leadership Institute in Orlando, Florida hosted by the Walt Disney Corporation. This three day leadership training made many life-long impressions, and one significant impression relates to guest satisfaction. Disney had invested the time to identify the key drivers for guest satisfaction and execute strategies and tactics to capitalize on them. time included:
1. Make ME feel special
2. Treat ME as an individual
3. Pay attention to MY children
4. Be able to answer MY questions
Disney's key drivers of guest satisfaction at the
Its one thing to think this through for your own business, its even better to write it down but it is an entirely different thing to have these key drivers embedded in the company culture. Let me give you an example of how Disney illustrated these "drivers".
On the second day of the leadership training, our entire group of 50 dealers and general managers went on a little "field trip" to Magic Kingdom. We walked through restricted areas and also spent time in the park examining Disney both the internal and external processes which created exceptional guest satisfaction.
While in the park, our trainer we will call "Tom", a semi-retired executive with Disney, distributed head sets so we could easily hear his instructions as our large group toured the park. At one point, as our group stood in front of and gazed at the iconic Cinderella Castle, Tom abruptly turned to us and motioned us to quickly huddle-up. It reminded me of the spastic gestures a quarterback makes on the football field when directing his team to hurry trying to beat a fading play-clock.
We all gave Tom our attention and he looked at us with the most focused expression as he said, "Her name is Clair! Her name is Clair." His mouth over emphasized the word "Clair", to help us better understand what he was trying to quickly communicate to us. Tom then whipped around with his back to us and faced a family of four walking toward Cinderella Castle. The young couple, only six or seven feet from us, was walking away from our group pushing a stroller. A little girl around the age of 5 walked by their side. It happened so fast, I had no idea what was going on. Just then, in my head set and with his arms up in the air like a conductor leading a great symphony, Tom sounded off, "Haaaaaappy Birthday to yooooou..." Thats about the time I realized we were singing happy birthday to one of these family members. In the next stanza, I realized 20% of our group, mostly men with deep voices had joined in song; all of them just as confused as I was, "Happy Birthday to yooooou..." As the robust and deep voices of 20 men resounded Happy Birthday, the young couple heard something that caught their attention... something different in the air. They turned around a bit confused, attempting to identify this foreign sound... a sound close to them, but not recognizable. The little five year old girl also turned around. She looked up at fifty men, dressed in business attire standing on the sidewalk, and this is when I realized what Tom meant by her name is "Claire". As a father, a complete rush of emotion came over me as the hair on my arms stood straight up and I was eager to join in the singing "Happy Birthday Dear Claire..." Claire, that little five year old princess, so excited to see Mickey Mouse, the Cinderella Castle and all the other attractions that Disney provides was filled with joy as she smiled from ear to ear. Her mom and dad looked at us, astonished as Tom walked toward them, still leading the choir of car dealers. Every few seconds Tom would turn a quick glance at us to ensure we were understanding what was happening. And... what was happening was we were making Clair feel like the most important little girl in the world. Tom had an ear to ear smile as well. He walked over about 5 feet from the Claire and got down on one knee, on her level, singing to her eye-to-eye as we finished, "Happy Birthday to You."
The mom, wiped her eyes, obviously filled with emotion that all of these strangers offered an extreme act of kindness and gave them all the unexpected gift... of a moment. I have to say, it felt great to be a part of that moment. It was a great thing.
The trainer patted Claire on the back and wished her a Happy Birthday from all of us. The mom and dad couldn't say thank you enough as they too hugged their special little girl. They turned and walked toward the Cinderella Castle full of emotion, full of joy and still taken back by the choir of car dealers.
The next day back in the training room, we all discussed this and many other significant moments we witnessed in the park. The trainer brought the conversation back to customers-for-life. He challenged us to create ways to offer exceptional customer service and to embed that into our daily operations, keeping customer key drivers in focus.
Disney would have received a perfect CSI score on this experience. If offered a survey, that couple wouldn't need coaching; it was real and genuine. But that "moment" was also created and designed. It is very clear what the Disney story is and this act does nothing but illustrate it.
You see, Disney had prepared for these moments. They offered guests a Happy Birthday button to wear on their shirts when entering the park. That "designed" gift of a button was also a signal to thousands of team members of the birthday... well played. Our trainer would have never been able to provide that moment if a team had not thought though the button process and how to communicate birthdays throughout the park. Perhaps the restaurant my colleagues and I visited had one color menu for first time guests and a different color for previous customers?
What is your dealership's story? How do you tell it to your prospects and customers? When we think of telling our story to compete, we are often unsure of what that story is, who to tell it to and how to tell it. Your story starts inside the walls of your business and the business thrives on the ability to tell a story that emotionally connects to your prospects. Actually, your story is dependent on you to express it and your team is watching for coherence.
Lets illustrate this inside of a dealership. What are our thoughts when a prospect comes through the door dragging three kids? Do we throw a coloring book and a box of crayons at them and pray the babysitter is on the way so we can focus on the sale? Or, do we design ways to cohere with the parents' desires? Their desires are for others to see there children as very important. We certainly spend a lot of time training on how to "sell" the parents, but is it important to provide leadership and direction to our team on the importance of the children?
This is just one example of endless opportunities to separate from the competition by focusing on the key drivers from the prospects' vantage point. The internal culture is setup (by default or by design, you get to decide) long before the external customer experience is determined. Your internal processes and culture will ultimately dictate the quality of service and the experience your customers are receiving. This is a great thing because many dealers often want to retire one day, sell the business, hand it down to their children or just sit on the board. Shoot, from talking to my 20 Group members, many dealers just want to take a long vacation without chaos at their lot. By intentionally laying the foundation of your values and customer key drivers, the dealership is being prepared for every current and future team member to recognize and support those values... your story.
I'd love to hear the creative ways you share your story with your team and customers. What are your key drivers for guest satisfaction? Send me your stories at Justin@ARCDealers.com. To receive my article "Answer MY Questions", email me with the subject line "MY questions" and I'll send it over.