A Dollar Saved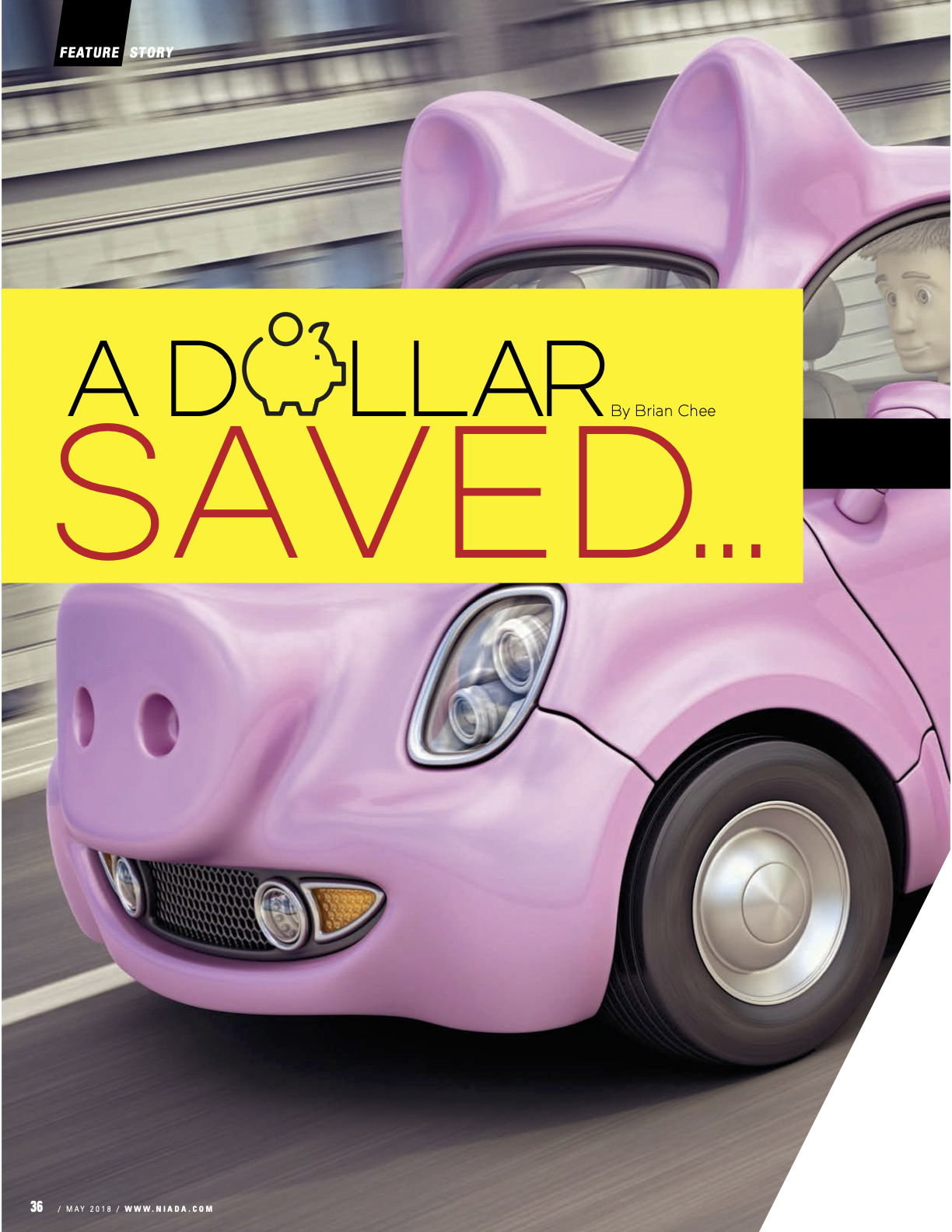 You can always sell more cars.
Too often, that's the solution offered to the problem caused by runaway costs and dissolving bottom lines.
After all, you've got sales, service, cars and determination.
If the cost of doing business is putting you out of business, why, the logical explanation is to simply sell more cars.
Right. Or, maybe, wrong.
Fact is, costs can creep out of control at virtually any dealership. The fast-paced nature of the business breeds an easy escalation of costs where none existed before. Take your eye off that income statement and the next thing
you know, you're scrambling for answers.
But the answer isn't always about income, or selling more cars. Often, it's about managing costs.
NIADA retail 20 Groups moderator and consultant Justin Osburn said dealers should start by looking at their financial statement and noting issues or trends that stick out, especially regarding variable expenses – things that change and can more easily be manipulated, like inventory, personnel and marketing/ advertising.
Most of the time, he said, dealers should look at three areas to reduce costs:
• Inventory management.
• Hiring, pay and retention. • Marketing and leads.
Why those three? Because, Osburn said, they offer the most control and the biggest potential savings.
"The first step is to look at those financial statements, first at inventory floorplan rates," he said. "Then I look at advertising expense per car, sales commission per car, data processing per car, inventory fees and expenses, and compare them to benchmarks."
INVENTORY MANAGEMENT:
PAY ATTENTION AND STICK TO THE PLAN
Step outside and look around.
See all those beautiful cars on the lot? They're enticing customers and promising to deliver maximum profit to the dealership.
At least, they start out that way. Unfortunately, some of those cars end up sitting ... and sitting ... and sitting, taking up space and costing you a fortune.
Any conversation about lowering expenses should start with how inventory is managed, from floorplan details to decisions about pricing.
At times, optimizing your inventory can be confusing, to the point of seeming like magic. To make matters more confusing, there are lots of experts out there, kicking up the dirt and sometimes making the whole thing seem impossible.
That's why Eric Miltsch of Auto Outlets USA and Dealer Teamwork suggests a more straightforward and connected approach.
"The first thing you have to do is define success," he said. "It starts with an overall strategic plan based on the sales and pricing philosophy of the store. For us, it's about one price – not the lowest price, but a competitive price for premium vehicles.
"Each dealership is different, and you must have a model in place that reflects the culture of the store. It starts there."
Miltsch is a partner in Auto Outlets USA, an independent dealership group with four locations in upstate New York, and co-founder of Dealer Teamwork LLC, an automotive marketing company that builds software for dealers to create, distribute and manage relevant content online.
While the Auto Outlets USA pricing model might be different, there are important keys to success to be learned from its experience. For starters, it's a proponent of using key performance indicators to gauge performance based on market, location and inventory exposure, a scientific approach that dissipates confusion and helps provide a clear picture of what's working and what's not. That allows managers to be nimble and tactical as needed. Osburn said that tactical science of inventory is critical, advising dealers to always look first at their direct expenses – starting with the floorplan.
If the rate is too high – say, 10.5 percent – the dealer should be on the lookout for something better. Until that something comes along, it's vital to apply an "aging strategy" regarding when to cut the price and move the vehicle.
"Taking a car back to auction is perhaps the worst thing to do," Osburn said. "The best thing is to have an ongoing aging strategy and to look at those cars weekly within that framework.
"You can lose $500 or a $1,000 but make it up on aftermarket. That's much better than taking a 100-day-old car to auction and losing $3,000."
Gordon Tormohlen, president of Tormohlen Motor Sales in Freeport, Ill., takes the idea of applying a strategy to inventory costs one step further, reminding dealers to take the time to listen to the stories unwanted vehicles tell potential buyers.
"It's a good idea to have someone re-evaluate a car that can't sell," he explained. "Drive it overnight and take a good look at it. Does it make a noise when it drives? Is there something off about the experience?
"Once you do that, then decide. You have to evaluate what's going on with the car before you go to auction with it."
Three keys to inventory cost savings: To reduce costs from inventory, keep three tips in mind:
• Approach inventory management with a consistent plan that aligns to the culture and sales philosophy of the store, then use data to measure effectiveness.
• Assess costs such as floorplan rate and apply an aging strategy to pricing drops. Avoid taking older cars to auction by lowering the price and recouping profit on aftermarket, if possible.
• Be aware of small issues that might keep a car from selling, such as a poor test drive experience, a bad showroom presentation or other tactical errors that can be easily resolved.
HIRING, PAY AND RETENTION: BUILD A TEAM THAT BUYS INTO THE MISSION
Inventory management might be complicated, but at least it's not personal. Cars can't talk back, don't have families and do not develop relationships over years spent selling cars.
That's the hard part about taking a hard look at your personnel costs. It takes a disciplined approach to ask tough questions about performance when you're emotionally tied to the people you see every day.
Osburn suggests taking the personal nature out of the situation by making it a matter of expense and profit, using a simple equation: total head count divided by gross profit. If your gross profit is $2,000 to $3,000 per employee, that's bad –
and it needs to be addressed. The next step is to gauge the number of units each salesperson is delivering and address issues based on performance.
"Low production is an expense," Tormohlen said. "There's not really any way around it. If you're not generating revenue, you're an expense, and the fact is this job isn't for everyone.
"Ultimately, at some point your employees have to convert to the cause. They have to believe in what they're doing and what you're doing."
Tormohlen asks one general question to all prospective salespeople, managers, technicians and service advisors: What should your top five job duties be?
In doing so, he looks for a strong customer-first perspective, a global team view and a profit orientation. When it comes to retention, Miltsch emphasizes the bond between people.
"Relationships matter, and in that way we're lucky," he said. "A few years ago, when one of our stores burned down, the employees thought they were without jobs – but we said, 'No way. We need you now more than ever.'
"In a way it was the best thing that happened to us, because in rebuilding together,
we built a strong bond."
That bond, or buy-in, propels productivity and the "10,000 hours" rule of success. Having a belief in what the team is doing creates the commitment and dedication it takes to play a long game and turn that 10,000-hour investment into success.
Three keys to improve personnel efficiency and cost:
Building a team of employees is more art than science, but evaluating their productivity is the opposite. That's where dealers should look when they examine employment expenses.
• How much expense goes to training and retraining due to churn? If that's a concern, improve your communication and review your pay plans. You can solve your retention issues with a good pay plan and solid training programs.
• What's your head count cost divided by gross profit? If it's too high, examine the number of units each salesperson is selling and work with subpar producers to improve while encouraging top performers to continue selling more. Just remember when it comes to sales, personality and attitude go far. It's rare that an introvert makes a good salesperson.
• Good employees buy into the program. They're ready to spend the next 10,000 hours working hard to build their own success story at your dealership. Hire people who are focused and have the attitude to succeed.
MARKETING, TECHNOLOGY AND LEADS: STOPPING THE RUNAWAY EXPENSE EXPRESS
Do you hear that train coming down the tracks? It's your out-of-control marketing expenses, those hair-on- fire, crazy but must-have programs guaranteed to help keep your store profitable, efficient, clean, compliant ... you name it.
Technology vendors, lead providers and more have in recent years moved into the automotive retail space, setting up camp with complicated formulas and promises of increased profits. Some of them work. The trick to figuring out which ones do lies in knowing what you need, managing your costs associated with the program and judging performance on clear, unbiased metrics.
"When dealers are looking at a new piece of technology, sometimes their eyes get bigger than their stomachs," Osburn said. "A dealer buys into a new technology or a marketing program and before you know it, there it is – at the dealership.
"Problem is, the dealer goes to work every day, has a cup of coffee and has 40 fires to put out. That new program sits gathering dust, purchased but not used. In fact, most independent dealerships use just 20 to 30 percent of their technology capability." Osburn suggests adopting technology that prioritizes clear pain points at the dealership, to the point that dealers should assess any type of tech purchase based on a targeted list of needs and expense savings.
"If you invest in a technology that will ease a pain point or reduce your costs, have a plan and put resources against it," he said. "Give people clear and defined roles, invest in the learning curve and the implementation – then measure progress and effectiveness."
Tormohlen's approach is slightly different, but he said it's been effective for his stores.
"If it's for a fee, the first questions I ask are whether I can do it for less money and whether the customer will care," he said. "Take the typical license-processing software service. Sure, it's not expensive, but it's an extra $7 per unit. That's a 7 percent return on investment."
Tormohlen is especially critical of some lead providers and other marketing programs, however, noting the expense of third-party lead providers can be unnecessary.
"I backed out completely," he said. "Cut it all off for 90 days. And sales went up. I re-introduced a small amount of advertising on radio and online, and that worked tremendously.
"What I learned was to not just react and do what other dealers were doing but to look at the market and approach it with a successful advertising plan for my store's needs." As far as Miltsch is concerned, the conversation about marketing expenses is just part of a deeper debate regarding the effectiveness of third-party leads and the mentality that has dealerships chasing a game defined by vendors. "That mindset needs to change," he said. "It needs to first be about the dealer's website. We reduced our exposure to third-party websites. The cost was a huge factor and we wanted to see how it would work based on very simple formula: DISC - does it sell cars?"
By making the dealers website the primary destination, Miltch was able to create highly relevant marketing and invest in more effective means of advertising, such as content that drove more relevant search traffic to the right conversion areas with a specific message to customers. The key, Miltsch said, is to look beyond the standard fare and metrics offered by third-party providers, to go beyond what he calls a "Chinese wall of information" to find a trusted source to accurately gauge the results of marketing programs. "It starts with small, basic things, like judging online campaigns on actual performance," he said. "Actual performance. Not cost per click, because that's not today's marketing ecosystem. "Mostly it means finding and associating with true data that will help you create marketing that works for your market. For example, there's a Google Guidebook that's available and literally tells you what to do to regarding search content and optimization."
Three keys to lowering marketing costs and improving results:
Tweak first, then measure. Always question. Experts emphasize the most important aspect of marketing expenses is to continually test programs and technology, looking to see actual results that lead to the sale of vehicles. It's possible - required, really - for marketing programs to provide cost savings and optimized performance.
Key's to getting there include:
Know where you are. Measure success in real-world metrics. Many dealers have a hard time gauging the effectiveness of their marketing campaigns because they move aways from cost-per-car analysis or a simple DISC approach. Finding a clear benchmark, then measuring effectiveness against that, is a great way to keep expenses down. For example, NIADA lists $298 per car as an ideal advertising benchmark.
Make the investment on the front end, then track to increase or decrease by using metrics. Be sure coverage and adoption is as important as purchasing and implementation.
Find your own truth. Search out reliable spruces of data to analyze current marketing programs and avoid third-party metrics without leveraging an independent source. Make sure your marketing fits your store and focus on your won website first and foremost.
A dollar saved is better than a dollar earned - but both is twice is nice. Is going through the painful process of reducing your costs better for your operation than simply selling more cars? In a word, yes. Osburn noted a dollar saved is a full dollar in your pocket, whereas a dollar earned can wind up significantly less than that. The point is keeping costs low is not a one-off practice done when sales are slow, but a continual and consistent approach to your dealership's operation. Tormohelen looks at it as a journey - not a destination - one that starts with a responsible and realistic structure, a reasonable growth plan and a philosophy of doing business. The trick is to make sure every expenses is justified and benchmarked based on industry standards and peer feedback. Ultimately, if the goal of you dealership is to make money, you can begin by lowering expenses, searching for ways to optimize and keeping an eye out on that bottom line.