CMD Rebooted
Justin M. Osburn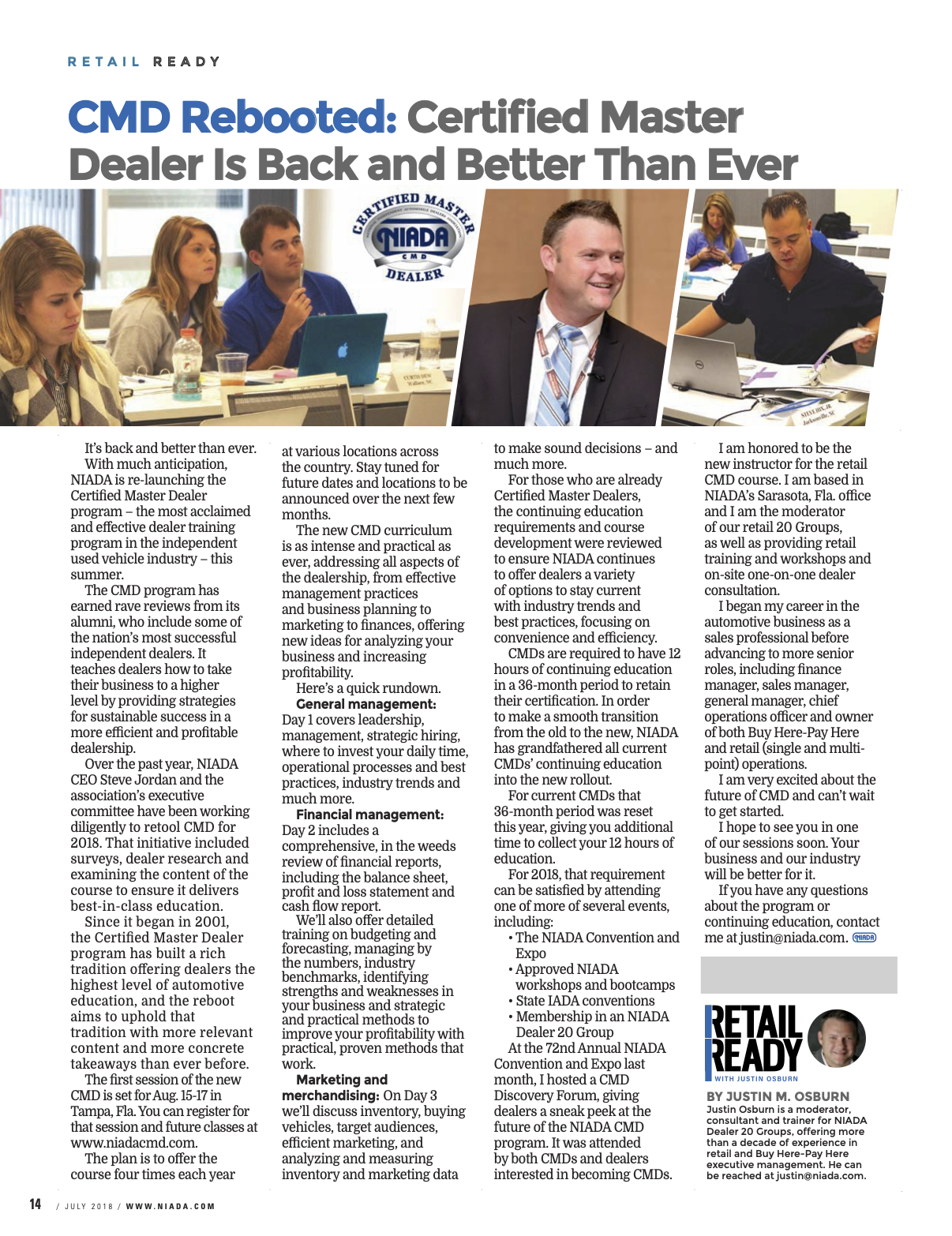 It's back and better than ever.
With much anticipation, NIADA is re-launching the Certified Master Dealer program – the most acclaimed and effective dealer training program in the independent used vehicle industry – this summer.
The CMD program has earned rave reviews from its alumni, who include some of the nation's most successful independent dealers. It teaches dealers how to take their business to a higher level by providing strategies for sustainable success in a more efficient and profitable dealership.
Over the past year, NIADA CEO Steve Jordan and the association's executive committee have been working diligently to retail CMD for 2018. That initiative included surveys, dealer research and examining the content of the course to ensure it delivers best-in-class education.
Since it began in 2001, the Certified Master Dealer program has built a rich tradition offering dealers the highest level of automotive education, and the reboot aims to uphold that tradition with more relevant content and more concrete takeaways than ever before.
The first session of the new CMD is set for August 15 - 17th in Tampa, Fla. You can register for that session and future classes at www.niadacmd.com.
The plan is to offer the course four times each year at various locations across the Country. Stay tuned for future dates and locations to be announced over the next few months.
The new CMD curriculum is as intense and practical as ever, addressing all aspects of the dealership, from effective management practices and business planning to marketing to finances, offering new ideas for analyzing your business and increasing profitability.
Here's a quick rundown.
General management:
Day 1 covers leadership, management, strategic hiring, where to invest your daily time, operational processes and best practices, industry trends and much more.
Financial management:
Day 2 includes a comprehensive, in the weeds review of financial reports, including the balance sheet, profit and loss statement and cash flow report. We'll also offer detailed training on budgeting and forecasting, managing by the numbers, industry benchmarks, identifying strengths and weaknesses in your business and strategic and practical methods to improve your profitability with practical, proven methods that work.
Marketing and merchandising:
On Day 3 we'll discuss inventory, buying vehicles, target audiences, efficient marketing, and analyzing and measuring inventory and marketing data
to make sound decisions – and much more.
For those who are already Certified Master Dealers, the continuing education requirements and course development were reviewed to ensure NIADA continues to offer dealers variety of options to stay current with industry trends and best practices, focusing on convenience and efficient. CMDs are required to have 12 hours of continuing education in a 36-month period to retain their certification. In order to make a smooth transition from the old to the new, NIADA has grandfathered all current CMDs' continuing education into the new rollout.
For current CMDs that 36-month period was reset this year, giving you additional time to collect your 12 hours of education.
For 2018, that requirement can be satisfied by attending one of more of several events, including:
• The NIADA Convention and Expo
• Approved NIADA workshops and bootcamps
• State IADA conventions
• Membership in an NIADA Dealer 20 Group
At the 72nd Annual NIADA Convention and Expo last month, I hosted a CMD Discovery Forum, giving dealers a sneak peek at the future of the NIADA CMD program. It was attended by both CMDs and dealers interested in becoming CMDs.
I am honored to be the new instructor for the retail CMD Course. I am based in NIADA's Sarasota, Fla. office and I am the moderator of our retail 20 Groups, as well as providing retail training and workshops and on-site one-on-one dealer consultation.
I began my career in the automotive business as a sales professional before advancing to more senior roles, including finance manager, sales manager, general manager, chief operations officer and owner of both Buy Here-Pay Here and retail (single and multi- point) operations.
I am very excited about the future of CMD and can't wait to get started.
I hope to see you in one of our sessions soon. Your business and our industry will be better for it.