The Future is NOW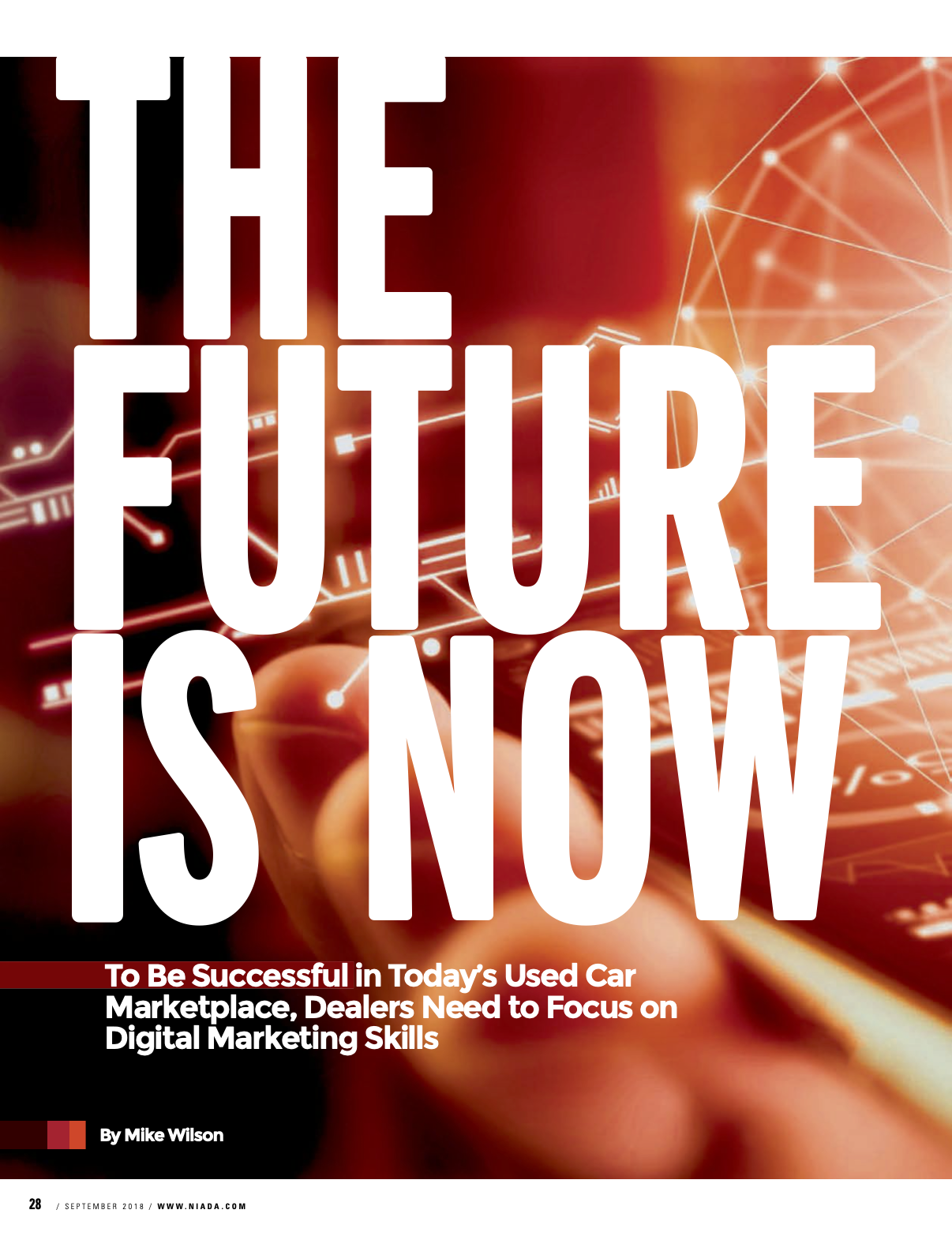 Ryan Stewart didn't need an industry research report to understand how an increasingly large number of his customers were learning about his independent dealership.
As part of the sales process, his employees at Good Wheels routinely ask visitors how they found out about the business. And the answers were obviously changing.
"It stopped being, 'Oh, I saw you in the paper,' or, 'I heard you on the radio,' and turned into, 'On your website through Google,' " said Stewart, owner and general manager of the dealership with locations in East Liverpool, Ohio, and Ellwood City, Pa.
Tracking his customers' initial contact with his dealership prompted Stewart to reassess his marketing strategy.
Instead of using the traditional avenues of TV, radio and newspaper, his dealership now spends its marketing budget almost exclusively on digital platforms.
The changes at Stewart's dealership illustrate the importance of digital marketing to today's independent dealers.
Many industry veterans view traditional media as decreasingly effective in their marketing efforts.
Of course, success in that area takes more than just being online. Merely having a website with pictures of inventory and a "Contact Us" link isn't nearly enough.
Fortunately, dealers have their choice of modern digital marketing tools, many of which allow precise messaging and the ability to track the effectiveness of a campaign. And they're cheaper, for the most part, than legacy platforms, experts say.
BEYOND THE BASICS
By now, every independent dealer should understand the need to have a digital presence: a mobile-optimized website that communicates the dealership's brand and personality, depictions of its current inventory and essential administrative information on topics such as financing, trade-ins, service, protection products and the like.
"Those are really the table stakes today for most independent dealers," Cox Automotive vice president for major accounts Mike Jaros said.
Phil Sura, vice president of sales for UnityWorks, which provides video services for dealers, cited a study
that supports Stewart's real-world experience at Good Wheels. According to the 2015 Automotive Shopper Path to Purchase study by Millward Brown Digital and Polk, of the 24 touchpoints, or points of contact, the average consumer goes through with a dealer, 19 of them – 80 percent – are digital.
"The way consumers are, they're spending more time doing their online research first," said Catherine Alton, director of marketing for SpinCar, provider of an automotive merchandising platform. "So it's important for dealers today to focus on paying attention to their digital showroom and making sure their inventory is up to date and their cars are showcased as they should be."
Shane Marcum, vice president of inventory solutions for NIADA Bronze- level National Corporate Partner Dominion Dealer Solutions noted that in 2017 "there were two times as many test drives being conducted on YouTube than there were on an actual dealership lot."
Social media, particularly Facebook, is a favored component of many dealers' marketing strategies.
About two-thirds of adults in the U.S. use Facebook, according to results of a survey published in March by the Pew Research Center.
"Our most invaluable tool," Stewart said, "has been Facebook."
The key to maximizing the power of Facebook, however, might be counterintuitive.
NIADA Retail 20 Groups moderator Justin Osburn, instructor for the newly rebooted Certified Master Dealer program and author of Used Car Dealer's Retail Ready series, said flooding a Facebook timeline with image after image of a dealer's inventory is not the way to market the dealership.
Such Facebook posts, he explained, are "probably irrelevant to the majority of your followers."
Instead, Osburn and others said dealers should focus on posting informative, educational, humanizing content, which is much more likely to be shared and liked by Facebook followers than, say, an image of a particular make and model of a car.
The sources of that sort of content are limitless: testimonials of satisfied customers, background on longtime employees, behind-the- scenes information on how a car is reconditioned before it's offered for sale, details on an upcoming community event, how to perform a layman's inspection of a car before a trip and so on.
Osburn cited the proverbial "old days," when successful dealers demonstrated their creativity on legacy advertising platforms, and said today's marketing avenues are new outlets for that same imagination.
"That's where the dealer needs to pull that advertising cleverness out of his hat," he said, "and just apply it a different way."
Ted Henkle, general manager of True Blue Autos in Greensburg, Ind., said he and his wife, Alexandra, who operates the dealership with him, post content featuring their entire family, including their 1- and 3-year-old children.
"I think that gives people insight on us ... seeing us as Ted and Alex Henkle, who have kids and people have nice things to say about them and they have a life outside of just helping you find a car," Ted Henkle said.
"People watch that stuff," Osburn agreed. "People share that stuff." Posting such content is only part of a successful marketing plan, Osburn and others said. Publishing material should be preceded by careful planning and followed by critical review. Henkle, for example, said his dealership has a content schedule that extends 30 days into the future.
"We're more organized about what we're trying to put on our page," he said. "You really have to track everything and make sure what you do choose to spend your money on actually returns something for you," Stewart added. "Because if you don't, you might as well take the cash out back and light it on fire."
Facebook owns another social media platform – Instagram – that's more popular than Facebook among a younger generation, including users who might not be in the car-buying market. But it's probably just a matter of time until a critical mass of Instagram users mature into a car-buying cohort.
DO IT THE CUSTOMER'S WAY
The relatively simple act of communication between a prospective customer and a dealership has undergone considerable upheaval. Many people now choose text messaging and email as their preferred means of communication. Dealers should be equipped to handle that shift. "You need to be using all of the prevalent communication channels to make sure you are available and providing the experience the consumer expects," said Ryan Osten, chief operating officer of Gubagoo, which offers services to support live chat on a dealer's website as well as SMS texting and Facebook Messenger. Harking back to the age-old maxim of the customer always being right, automotive experts recommend asking a customer his or her preferred means of communication - and honoring that request. "Texting and email are the new norm for communicating with customers," Dominion's Marcum said. "Very few people will answer phone calls, but they will respond to text." An obvious advantage for a dealer in communicating via text or email is those channels allow a dealership to incorporate photos or videos into the thread. Another way dealers can give customers what they want is by speeding up the sales process. Cox Automotive's 2018 Car Buyer Journey study found fewer than half of car buyers are satisfied with the length of the in-store buying process. That widespread dissatisfaction provides an opportunity for dealers to streamline the in-store experience and feature that in their marketing. "Some consumers prefer to complete parts of the vehicle transaction from the comfort of their home," said Jim Menard, a senior vice president who oversees the independent dealer business for TrueCar. "Dealers need to embrace digital tools on their dealer website like trade widgets and finance tools."
A TIME TO HIGHLIGHT INVENTORY
Of course, there is a time and a place for a dealership to use a digital platform to highlight its inventory, spotlight a special sale or otherwise making a hard-sell pitch. Allowing consumers to see the vehicles is a must, say the experts, whether through video or photos. As with many other elements of dealership operations, there are third parties that can handle the visual component of a dealer's marketing. SpinCar, for example, converts photographs into an interactive 360-degree display of the vehicle. UnityWorks stitches photos together and syndicates the video online to a dealer's website, a third-party site and YouTube. Stewart, an independent dealer with stores in Ohio and Pennsylvania, cites the book Jab, Jab, Jab, Right Hook in describing his strategy for pushing inventory to his dealerships' followers. The strong digital sales post (the right hook) should come only after a considerable number of posts that don't emphasize sales (the jabs). When it comes time to throw that right hook, Facebook ads are a favored method among many dealers. Facebook ads can be targeted to a granular level - by age, geography, car type, etc. - to zero in on prospective customers. "It's the biggest bang for your buck in terms of return on investment," Steward staid. "You can spend a little bit or a lot, and no matter what you spend on it, you're going to get something out of it."
Used properly, Facebook ads and other digital marketing tools also allow dealers to track how well their digital campaigns are working. "Never before has anybody been able to say, You spent this amount of dollars, you sold to these people and we can definitively say how they got here,' " Osburn said.
"Digital advertising is significantly more effective and more cost-effective than any of the traditional advertising dealers had to do 15 years ago," Cox Automotive's Jaros added. "It's cheaper to get in the game – but it also requires a lot more attention." A relatively new addition to a used car dealer's arsenal is Facebook Marketplace, which last fall was opened up to used car dealers. "We're seeing tremendous engagement on that channel," Osten said. "If dealers aren't looking at that, they need to be."
TRANSPARENCY AS A MARKETING TOOL
Photos and videos of inventory are more than visual marketing tools for a dealer. They are also examples of transparency, giving the customer literally a complete image of a car before he or she comes to the lot. Another part of transparency that should be part of a dealer's marketing toolbox are online reviews.
Dealers and industry experts say reviews are extremely important to customers, and they also factor into a dealership's success with search engines. "That's how everybody shops now: reviews, reviews, reviews," Stewart said. As part of their interaction with customers, salespeople should stress the importance of a review. Stewart's dealership, for example, incorporates a workflow in which a customer receives a text message requesting a review before he or she leaves the lot. "Offering incentives to leave a review is a great option for dealers," Marcum said.
Transparency can also include adding a third- party price valuation from a source like Kelley Blue Book or Black Book into the dealership's marketing. Giving consumers an unbiased reference point bolsters a dealer's trustworthiness and credibility. "The dealers I see who are embracing that are seeing a lot of success," Jaros said.
LEARN HOW, OR HIRE SOMEONE
There are aspects of digital marketing that require more technical expertise than the ability to post a Facebook update. Using Google Tag Manager or the Facebook Pixel, for example, can be crucial in determining the effectiveness of online campaigns.
But does the general manager or owner of an independent dealership have the time or the desire to learn the inner workings of a digital product? As Osburn said, a dealer needs to either hire someone or figure it out on his or her own. However the dealer decides to conquer the back-end digital demands of today's marketing environment – in-house or with a contractor – he or she should understand that marketing to potential customers must be on the customers' time and terms. "Most dealers haven't had to purchase a car retail in a long time, if ever, I'm sure," Jaros said. "For many of them, it's a bit of an awakening when they really take a look at how their customers are shopping." Added Gubagoo's Osten: "It's extremely important in today's environment to meet customers where they are and to communicate with them how they want to be communicated with."